..September 2008 Nagasaki..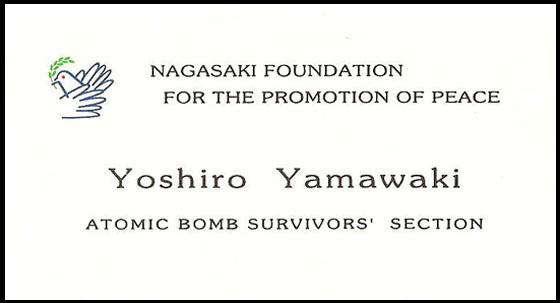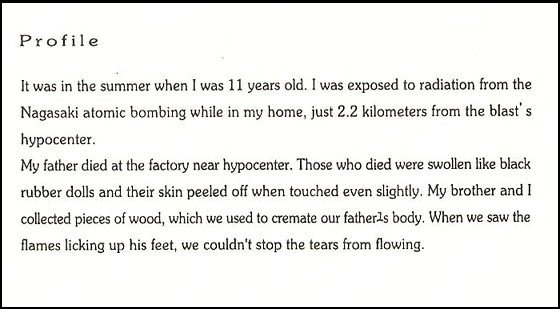 Yoshiro Yamawaki-san
74 years old
11:02AM August 9, 1945
Yamawaki-san's story is about recovering his father's body. He was 11 years old. Lived 2.2km from the epicenter. He and his brother where at home eating lunch at the time of the blast.
The atomic bomb blast tore apart the home. He remembers hearing the plane above. The surge of the blast. They could see the sky through the damaged ceiling beams. Nagasaki on fire and destroyed.
They waiting all night for their father to return from the Mitsubishi Steelworks factory located near the epicenter, 500 meters. He never returned. They assumed he would return home.
The next morning, August 10th, 1945, he and his brother decide to walk to the factory. The factory was located on the Urakami River. Very close to the building I was now sitting in 64 years later. I could see the former location over Yamawaki-san's shoulder through the large window at the end of the room.
As they walked closer to the factory the devastation grew worse. They had to step easily to avoid breaking the heaps of bodies lying on what used to be streets along the river. Swollen dead bodies and scorched debris.
"…Those who died were swollen like black rubber dolls and their skin peeled off when touch even slightly." -Mr. Yamawaki
They froze at the site of the Mitsubishi Steelworks factory. Almost nothing was left. At the factory, they found a worker who knew where their father's body was. The 2 young boys collected wood to cremate their father's body. They set the fire.
"…My brother and I collected pieces of wood, which we used to cremate our father's body. When we saw the flames licking up his feet, we couldn't stop the tears from flowing….." -Mr. Yamawaki
They returned the next day to find the body wasn't fully cremated. Only his hands and feet were burnt to the bones. Saddened they have not told their now 92 year old mother the story. They never will.
Mr. Yamawaki was the only Survivor to tell his story in English. I was surprised, when asked why he learned English in his late 60's. He had retired and found it necessary to continue learning. It's another display of the spirit of the Hibakusha I met in Nagasaki. Their will to want to live and go beyond.